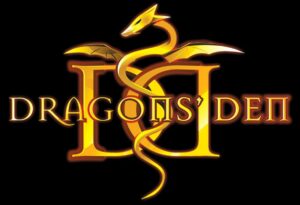 AUDITION FOR DRAGON'S DEN
As a long-time fan of the Dragon's Den, and US-based Shark Tank, I was very keen on presenting our unique game concept to the producers of Dragon's Den this morning!
We met some other wonderful entrepreneurs in the waiting area who were of course there to present their own pitches - a cafe franchise opportunity; an education funding system; wellness products; an incredible invention that replaces zippers; and, even a to-your-door pet food subscription service.
As we were waiting, we broke out one of our prototypes and had a game of Gambit - and next thing you knew, people were asking about the game, wanting to try it, and before our number (#8) was called we had sold half our inventory!
During the pitch, I was asked by the producers if I thought my price points on the versions of Gambit were on point, and I had to smile as I told them half of the display they were looking at was pre-sold in the lobby. The producers, board game fans themselves, asked for one to take back to Toronto with them, so they received a Gambit4 in oak for the staffroom at CBC headquarters - where I hope to be in two months pitching to the six panelists - Jim, Arlene, Vince, Manjit, Michelle and Lane.
For those of you who are fans of Dragon's Den, which of those six gurus do think is most likely to take Gambit international with us? Email your response to [email protected]. If you are correct your name will go in a draw with all other entries with the same guess and we will award the winner a Gambit4 in oak, same as the producers received!
One other note that I hope plays into our favour - we were very fortunate, having arrived right at 11am, to be the last presentation to enjoy having both producers for our particular pitch. After we wrapped up they split apart to double the number of people they could put through their process as traffic really picked up after 2pm. So, I got to answer twice as many questions and give them all the information they needed to consider bringing Gambit to the Den.
Fingers crossed!